With so many tech blogs available on the Web today, it's easy to get lost in numerous sites that you can't tell one from another. While there are many tech blogs available, there are only a few that provide the daily news you want to read. We have sorted through the massive list, and have 8 tech blogs to recommend that you should be reading. Enjoy!
Top Android Sites
If you're crazy about all things Android, everything from the way Google names its Android OS updates (Doughnut, Éclaire, Jelly Bean, and Kit Kat – need I say more?) to the numerous Android smartphones and tablets produced by OEMs each year, then these Android sites will provide what you're looking for.
Android Authority

Android Authority is, by far, one of my favorite Android sites on the web. Founded in 2007, the site has 15 active contributors. Each week, you can expect to hear from prolific writers such as Bogdan Petrovan, Chris Smith, Joe Hindy, and Joshua Vergara.
One thing you can expect to see a lot of at Android Authority is Vergara's drop tests on the latest smartphones and tablets, as well as coverage from tech conferences such as the recent Consumer Electronics Show (CES) 2014 and early reviews on the latest gadgets. According to its website, Android Authority's mission statement is "to deliver the fastest news, trusted leaks and rumors, objective reviews and media coverage for the Android platform." The site recently achieved a milestone of 500,000 subscribers and is, no doubt, here to stay. If you're looking for a reliable Android source, check it out. In the words of Joshua Vergara, Android Authority is "your source for all things Android."
Android Police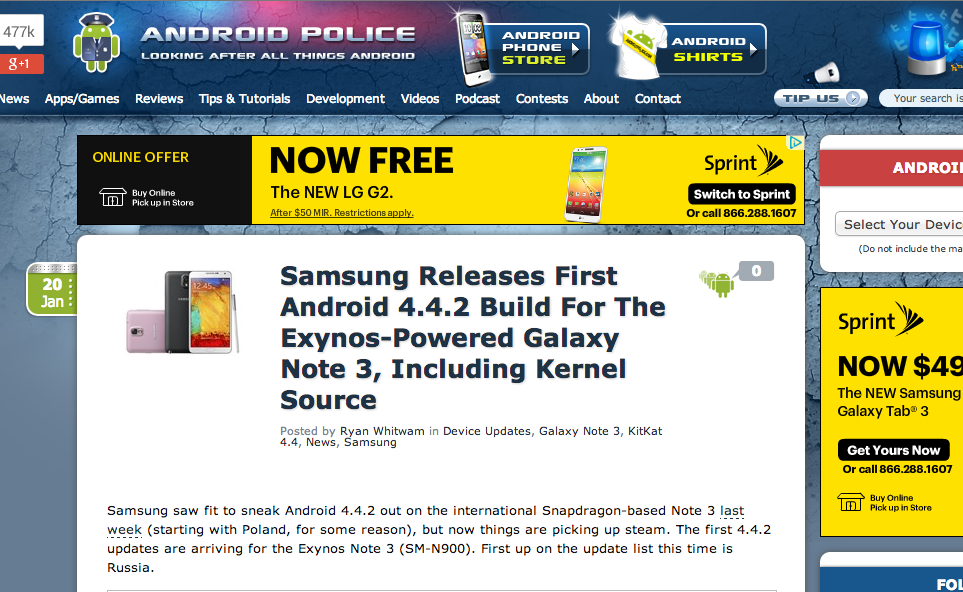 Founded by owner and the site's Chief Editor, Artem Russakovskii, in 2009, and committed to "everything Android," Android Police has 3 million active viewers monthly and reaches estimates of 11 million pageviews per month. While there are quite a few writers at the site, you'll most likely encounter the work of site owner Artem Russakovskii, as well as other writers such as Bertel King, Jr., Cameron Summerson, and David Ruddock on a constant basis. If you're looking for the latest tech deals on waterproof Bluetooth speakers for your Galaxy Tab, a refurbished Nexus 10 with a massive price drop, or the latest news on whether or not this is the day that the next Nexus tablet or smartphone will be announced, look no further than Android Police.
Top iOS Sites
Where there's Android, there's also iOS. Android's competitor in the smartphone and tablet space has its own list of formidable tech blogs.
Cult of Mac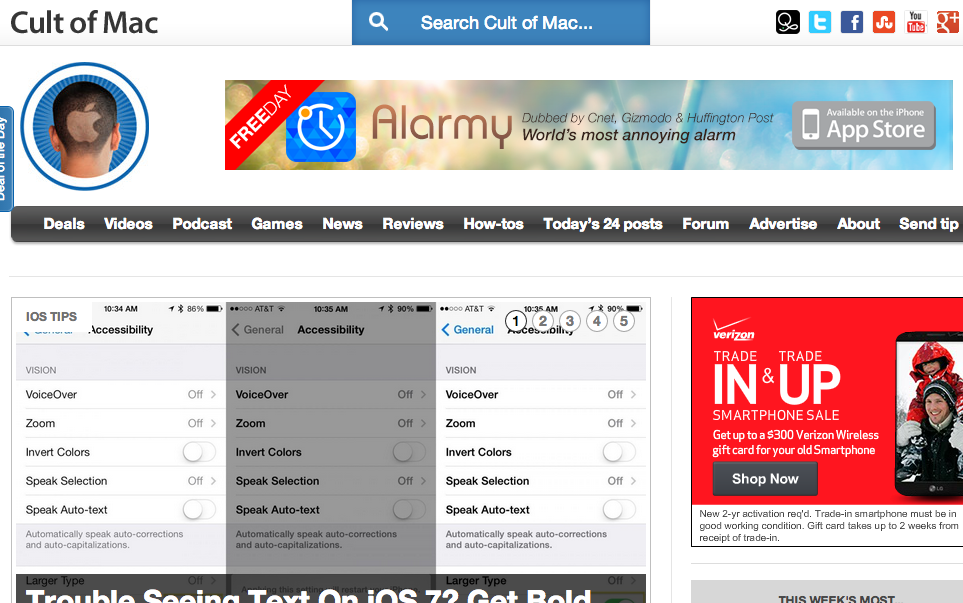 Cult of Mac was founded in 2009 by Leander Kahney, author of the books Cult of Mac, Cult of iPod, and Inside Steve's Brain, a book about the legendary Apple CEO Steve Jobs. As the name suggests, this site is all about being in love with the MacBook and iOS in general. On any given day of the week, you can find articles written by Rob LeFebvre, Buster Heine, Killian Bell, Alex Heath, and John Brownlee.
Although Cult of Mac is devoted to all things Apple, writers Killian Bell and Alex Heath aren't afraid to discuss Apple's flaws and commend Google and Android for its own offerings. You will find jailbreak tweaks and the latest covering on the JailbreakCon tech conference, but you will also find articles on why Killian Bell dropped his iPhone 5 for the Nexus 4. Cult of Mac has its own Android site (Cult of Android) as well, so you may want to visit the Android site from time to time.
Today's iPhone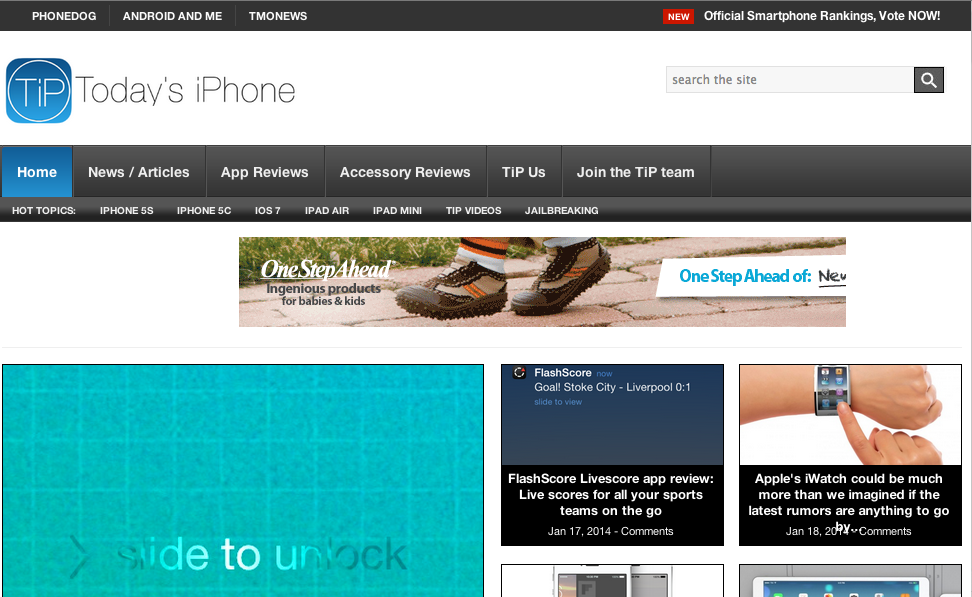 Today's iPhone is one of four sites owned by PhoneDog Media, the other three being PhoneDog, Android and Me, and TmoNews. The site covers iPhone, iPad, iOS, and Apple news. The site is famous for publications on iPhone concepts, some of which actualize in Apple presentations. Prior to the iOS 7 launch, Today's iPhone released an iOS 7 widgets concept that correctly predicted the major overhaul of iOS. The site has 10 million pageviews per month and you will most likely read articles by Cam Bunton on a regular basis. Cam Bunton spent 30 days with the Blackberry Z10 some months ago, and concluded in the end that he is happy with his iPhone 5. If you think nothing else compares to the iPhone, you'll find your home here.
General Tech Blogs: CNET, The Verge, BGR, PhoneArena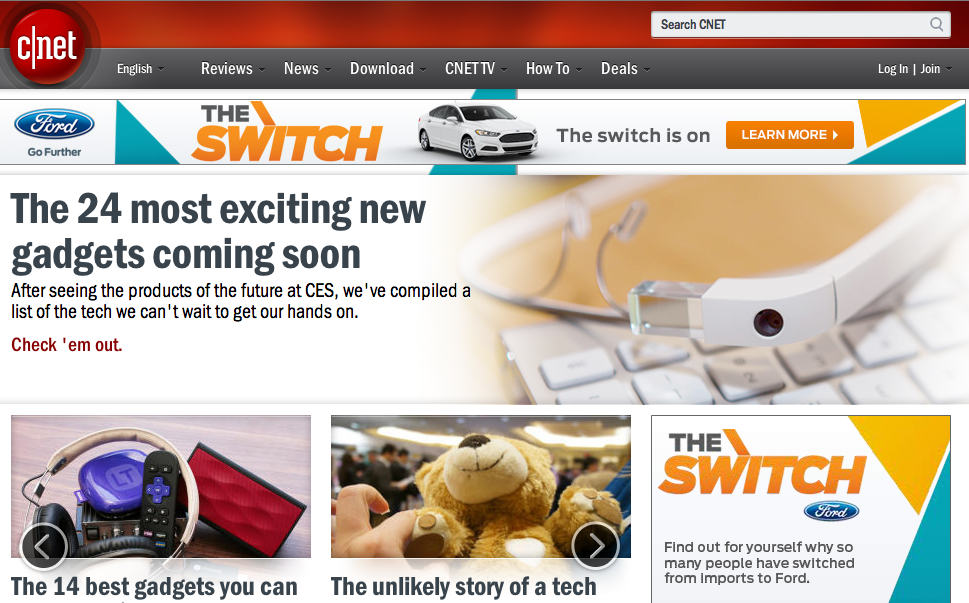 This last category is reserved for blogs that have no commitment to one mobile operating system than another, but simply strive to provide on-point reviews, videos, and news coverage. First on the list is CNET, whose reviews and Consumer Electronics Show, Mobile World Congress, and other news coverage is out of this world. The reviews are well-done and seem to offer insight you won't find elsewhere.
You will often read from writers Brian Bennett, tech reviewer Jessica Dolcourt, CNET Editor Eric Franklin, and Molly Wood. Bennett often reviews smartphones and smartwatches, while Dolcourt is the go-to person for all your smartphone and tablet reviews. You can find Eric Franklin at the top tech conferences and reviewing laptops and tablet PCs, while Molly Wood hosts CNET's "Always On" feature that provides the latest torture tests demonstrations for your cringing pleasure. If you visit CNET, however, we ask one thing of you: do not email Molly Wood and ask her about that Samsung Galaxy S4 Broadway performance from last April.
CNET staff writer Margaret Reardon hosts her own "Dear Maggie" column, where viewers write in and ask her questions about phone carriers, phone plans, whether or not to purchase the iPhone 5s now or wait for that new Samsung Galaxy S6 or Note 4, and so on. Chris Matyszczyk is known for his interesting tech stories, including the one in which "spoiled brat" teenagers complained about their tech gadgets for Christmas – one saying that her life was over because her dad purchased "the wrong color iPhone" for her.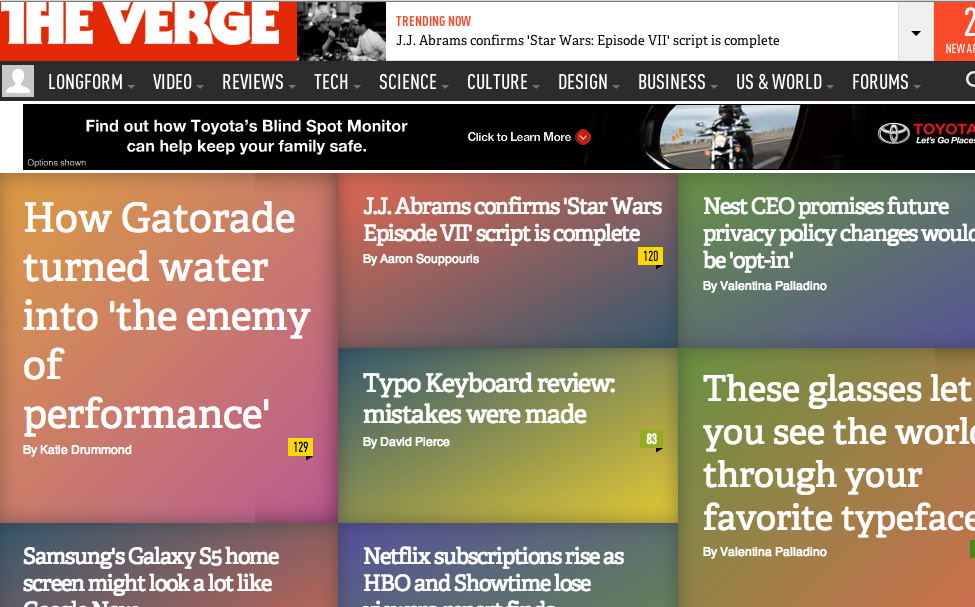 The Verge is another general tech site devoted to mobile as well as PC worlds. Reviews done by the site on the latest mobile gadgets are excellent, although The Verge seems to lean in the direction of Apple, the iPhone, and iOS quite a bit.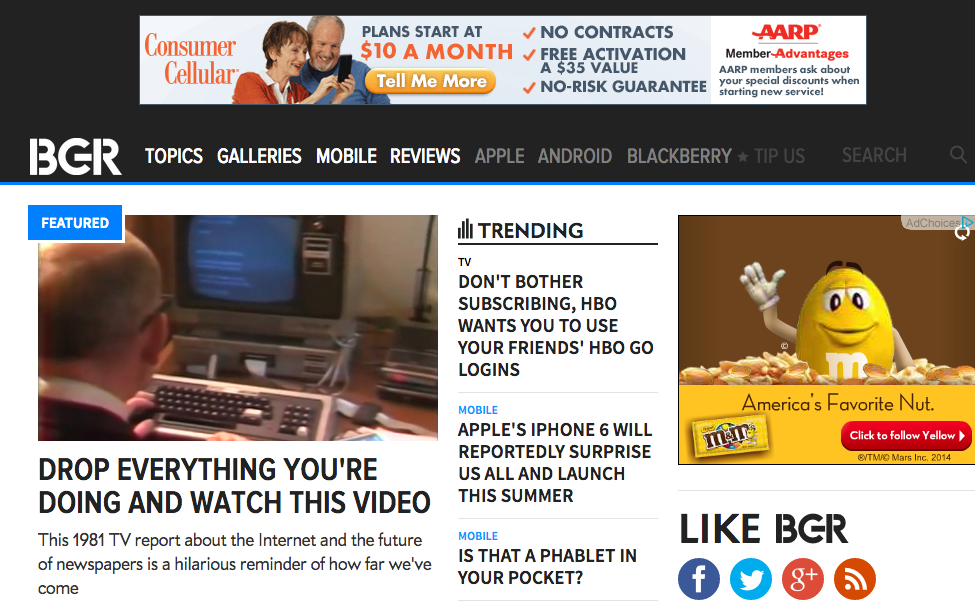 BGR (acronym for "Boy Grade Report") covers lots of mobile news from the major smartphone manufacturers, but focuses most of its time on Android and iOS. The site is often critical of Samsung and Apple at times, and its criticisms give both Apple and Samsung fans a dose of excellent medicine. Beware: BGR is in love with the HTC One.
Last but not least, PhoneArena covers more Windows news along with Android smartphone and tablet leaks than any other tech site I read on a regular basis. If you're wondering whether or not the Nexus 5 camera is worth your time and money, or whether Nokia's got a new Lumia smartphone in the pipeline, PhoneArena is your go-to source.
Which tech blogs do you read on a regular basis? Are you surprised at those that made the list – and those that didn't? Write in and let us know. We're always excited to hear from you.
Image Links: Featured, Android Authority, Android Police, Cult of Mac, Today's iPhone, CNET, The Verge, BGR, PhoneArena